Seniors, don't forget that senior ad payments are due by January 25th. Gather the pictures you need, & be ready to submit them when you pay. Prices: full page $180; half-page $90; 1/4 page $70; 1/8 page $50. The yearbook staff can design the ad for you for an additional $20. Email
cmilligan@jonesps.org
for more information.

Future OCCC student, Oklahoma City Community College's Freshmen Scholarship application is now open!! The deadline for the Freshmen Scholarships is February 1st. The scholarships are based off of your ACT scores or your cumulative high school GPA. You can click link to learn more and apply
https://www.occc.edu/scholarships/freshman-tuition-waiver/
You must be admitted to OCCC in order to apply for the scholarships. You can click link below to access the online application for admission.
https://www.occc.edu/onlineapplication/
Apply now while scholarships are available!

JHS JUNIORS AND SENIORS INTERESTED IN GOVERNMENT: The Oklahoma House of Representatives Page program is accepting applications. Each year, hundreds of students from across the State have the opportunity to take part in the Oklahoma House of Representatives High School Page Program. Pages are assigned for one week, Monday through Thursday, during the legislative session that begins the first Monday in February through the last Friday in May. Page program is limited for high school juniors and seniors. Serving as a Page includes working in the House chamber during daily session and also running errands for the Representatives and House staff and taking part in the House Page Mock Legislature. Pages begin their duties on Monday morning with an orientation session to become familiar with the Capitol building and their duties for the week. Each day begins at 8:00 a.m. and ends at 3:30 p.m. Monday thru Wednesday with the exception of Thursday, when Pages are released for the week at 2:30. Hotel accommodations and chaperones are provided for all students. Hotel Pages are transported to and from the Capitol daily. Pages are closely supervised at all times and are not permitted to leave the hotel or the Capitol. For more information and to apply go to link below
https://okhouse.gov/Pages/Index.aspx


A big thank you to the Bureau of Indian Affairs for coming out and speaking to our students about the Pathways program. This is a program to help access federal careers! Looking forward to working with the Bureau of Indian Affairs.

Students: Did you attend the Snowball Semi-Formal Dance? The yearbook needs your pictures. Please email pictures to
cmilligan@jonesps.org
. Thank you very much!!

ALWAYS BE YOU!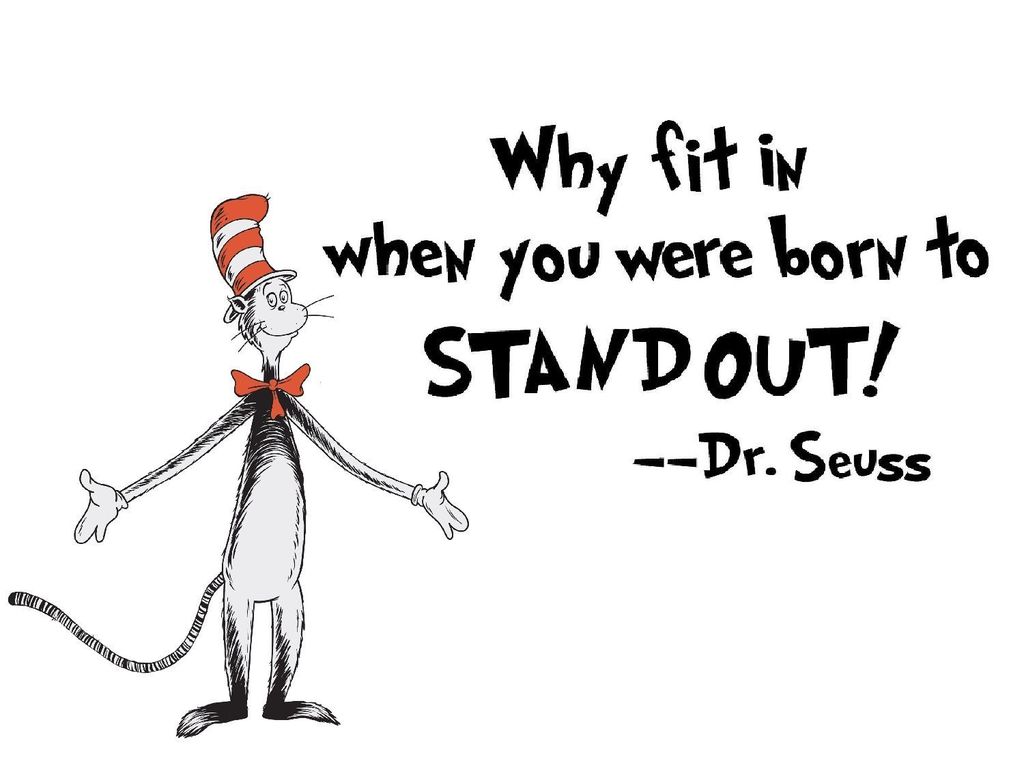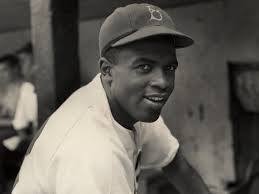 Congratulations to JHS Senior, Mia Edmonds. Mia has been offered a 5850.00 scholarship to continue her education and play softball at Independence Community College in Kansas. Way to go Mia! #ITSAGREATDAYTOBEALONGHORN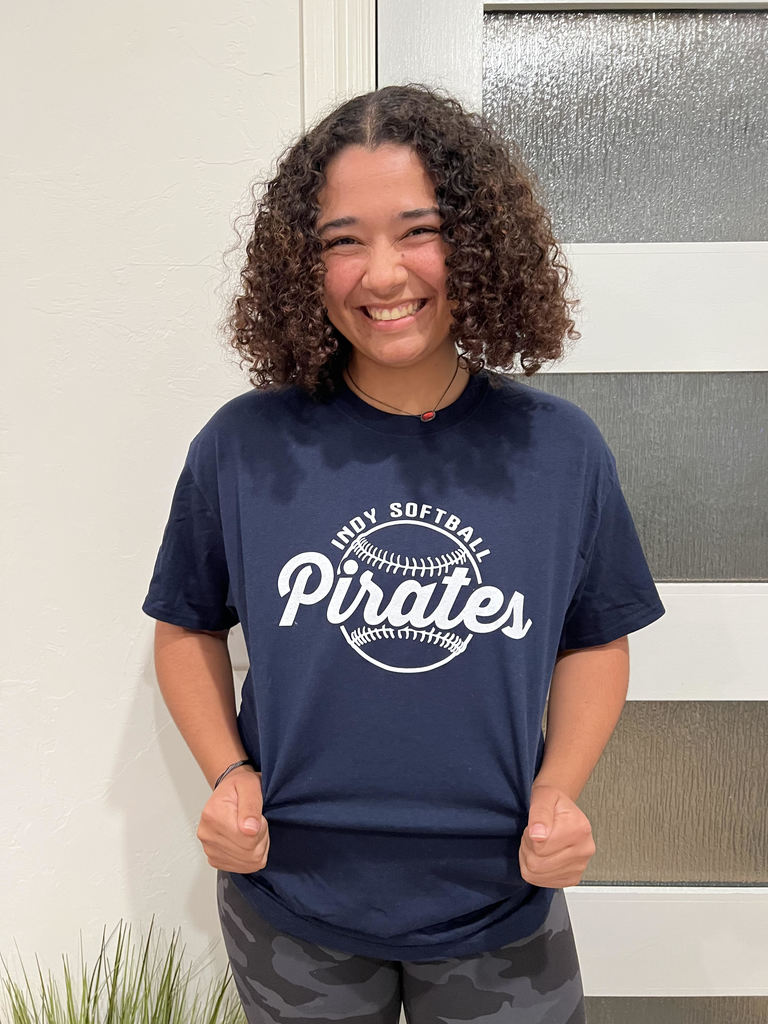 Thank you STUCO for an amazing Snowball!

SNOWBALL WAS A HUGE SUCCESS!! THANK YOU

JHS students: I have scheduled Ms. Carly Dyer from the Bureau of Indian Affairs to be at Jones High School on December 6 at 9:30 am. This event will be held in the library. She will be in to help students learn how to write a resume for a federal government position. She will also help you learn how to navigate the USA Jobs website to find various job openings, and she will also answer any FAFSA questions and provide FAFSA Completion assistance. Federal jobs include any and all jobs at tinker, FAA, National Park Service, etc. Even if you are not able to apply right now, it would be good for you to have the information being presented. They will be providing food and drinks so if you are interested in attending please sign up with MR. Moses so he can provide them an accurate head count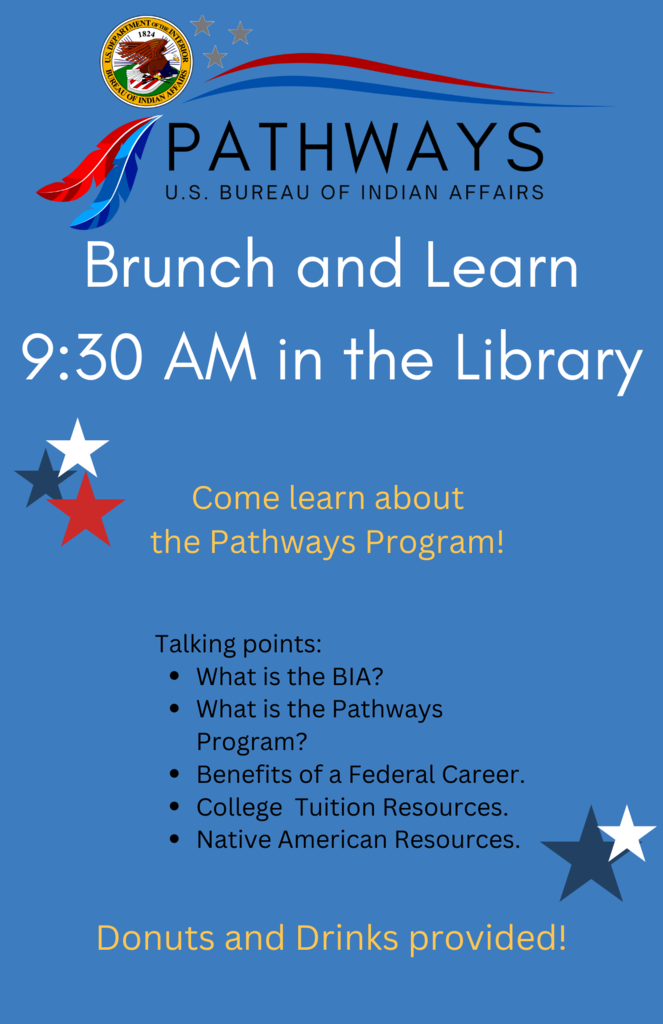 Let's get ready for our semester tests with festive dress-days! Dress-Up Days run from Dec. 12-16. These dress-up days are for high school students and must respect the school dress code. Happy Holidays!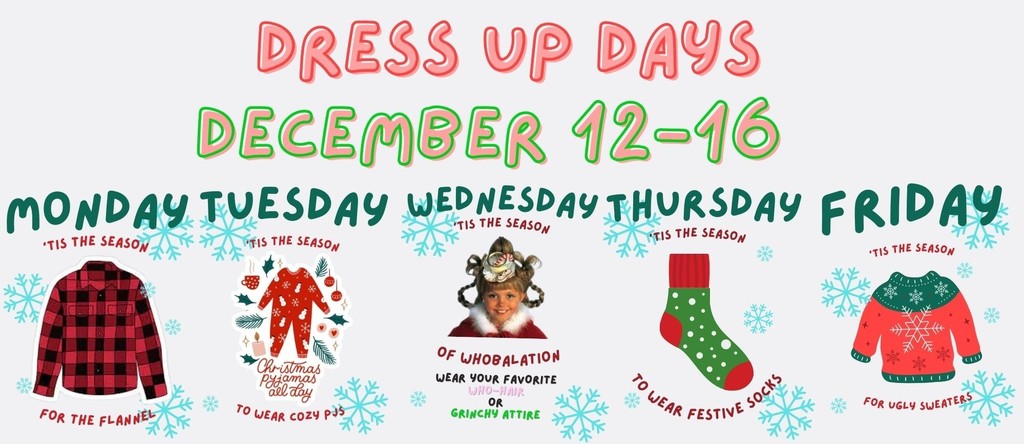 JHS December Events and Reminders: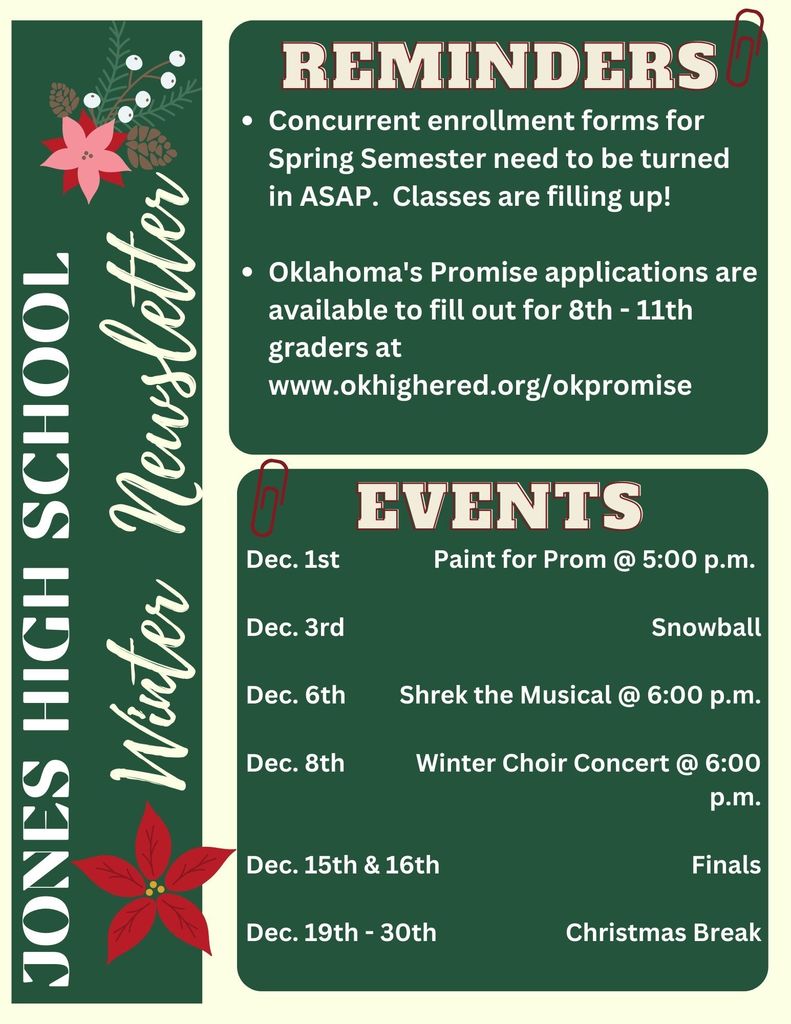 Congratulations to JHS Senior, Kayleigh Patterson! Kayleigh has been awarded University Scholarship to University of Science and Arts of Oklahoma(USAO) in Chickasha in the amount of 6500.00. Way to go Kayleigh. #ITSAGREATDAYTOBEALONGHORN #FUTUREDROVER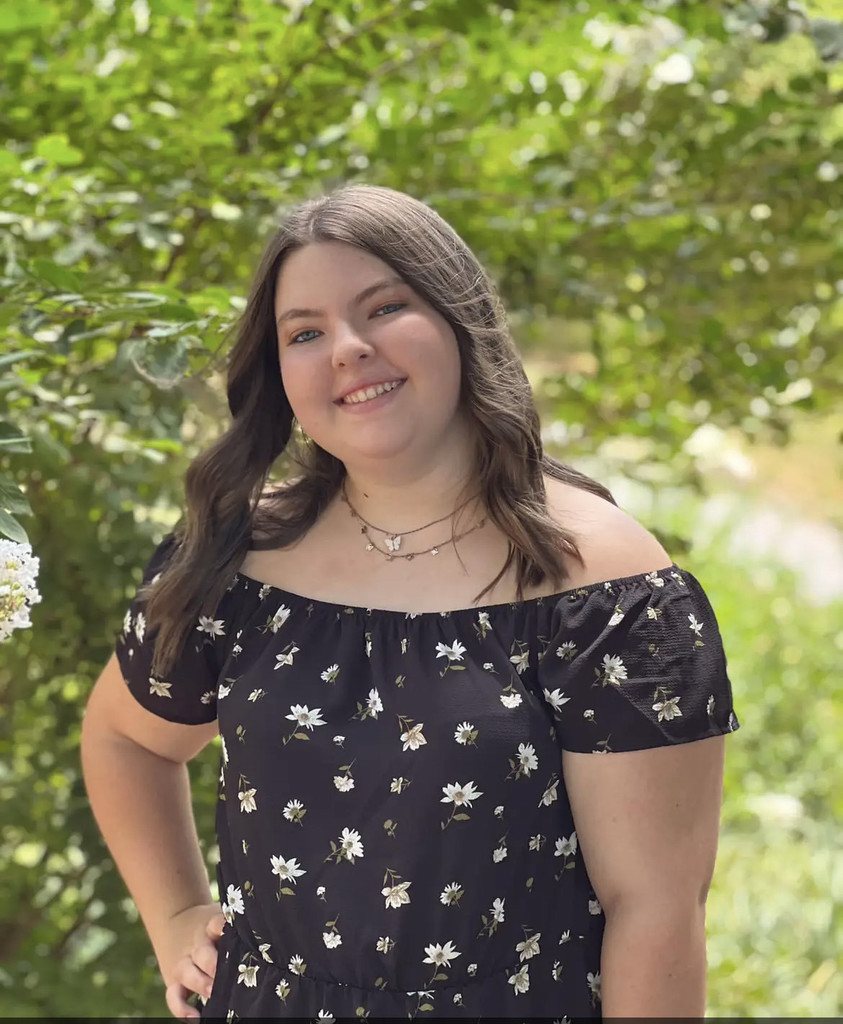 JHS SENIORS: HELP US FIND THE NEXT GENERATION OF ENERGY LEADERS! Each year, the OERB awards up to $500,000 to students majoring in petroleum-related fields at the University of Oklahoma (OU), the University of Tulsa (TU), Oklahoma State University (OSU) and Oklahoma City University (OCU). This includes incoming freshmen. Petroleum-related majors include: Petroleum Engineering, Geosciences, and Energy Management. Each OERB Petroleum Scholar has the opportunity to be awarded up to $17,500 in scholarships throughout their college career. Freshman- $2,000 Sophomore- $3,000 Junior- $5,000 Senior- $7,500 Please join me in helping your high school seniors get the money they need to JUMP-START THEIR FUTURE by encouraging them to apply today at OERB.com/scholarships! The 2023-2024 application is open until March 1st, 2023 and takes less than 30 minutes to complete. Last year nearly 50% of students that applied were awarded scholarships! OERB's scholarships are sponsored by the 2,500+ producers and thousands of royalty owners in Oklahoma. The industry directly employs 140,000 Oklahomans and has an average salary of $104,000. The next generation of oil and natural gas professionals will continue to help produce the resources that fuel our modern world while finding new ways to reduce the environmental footprint.

#NATIVEAMERICANHERITAGEMONTH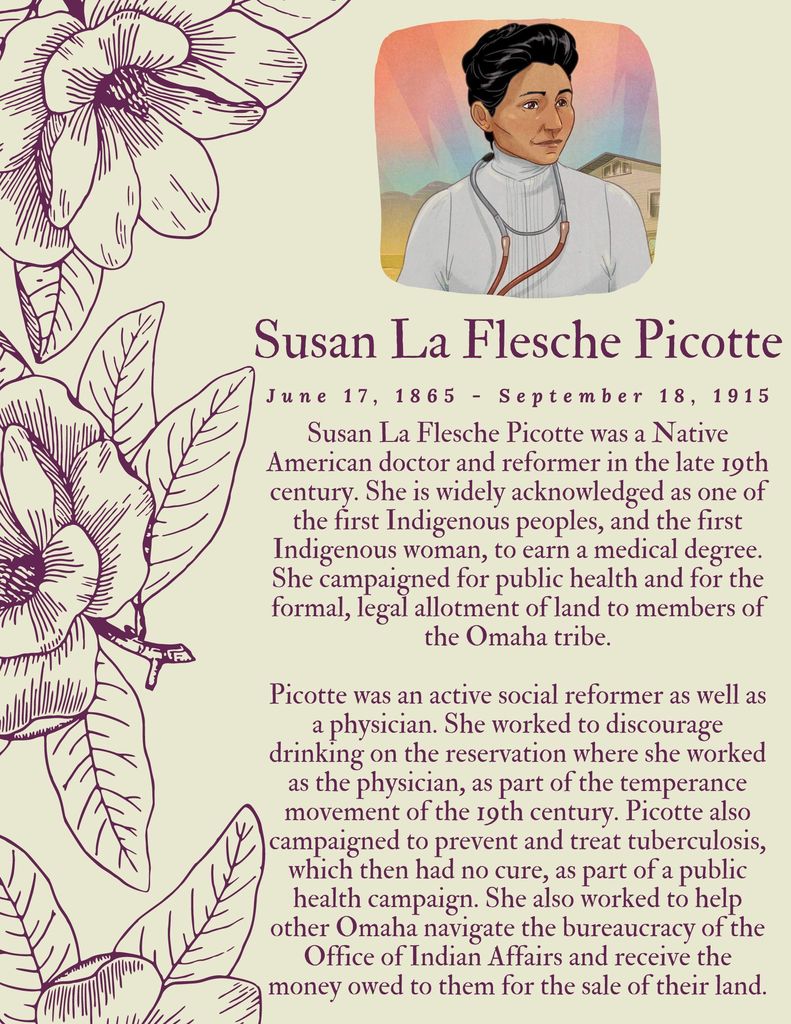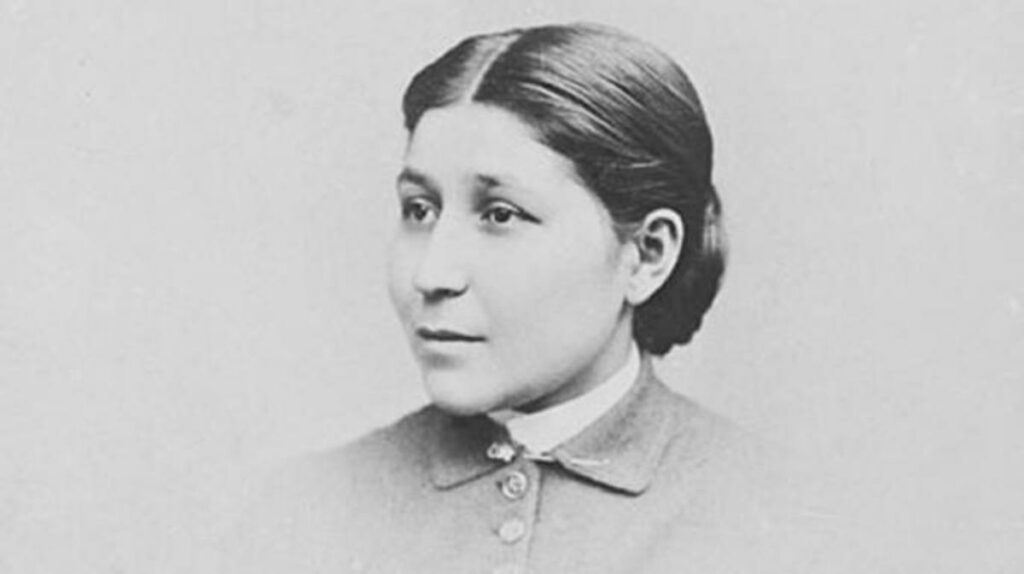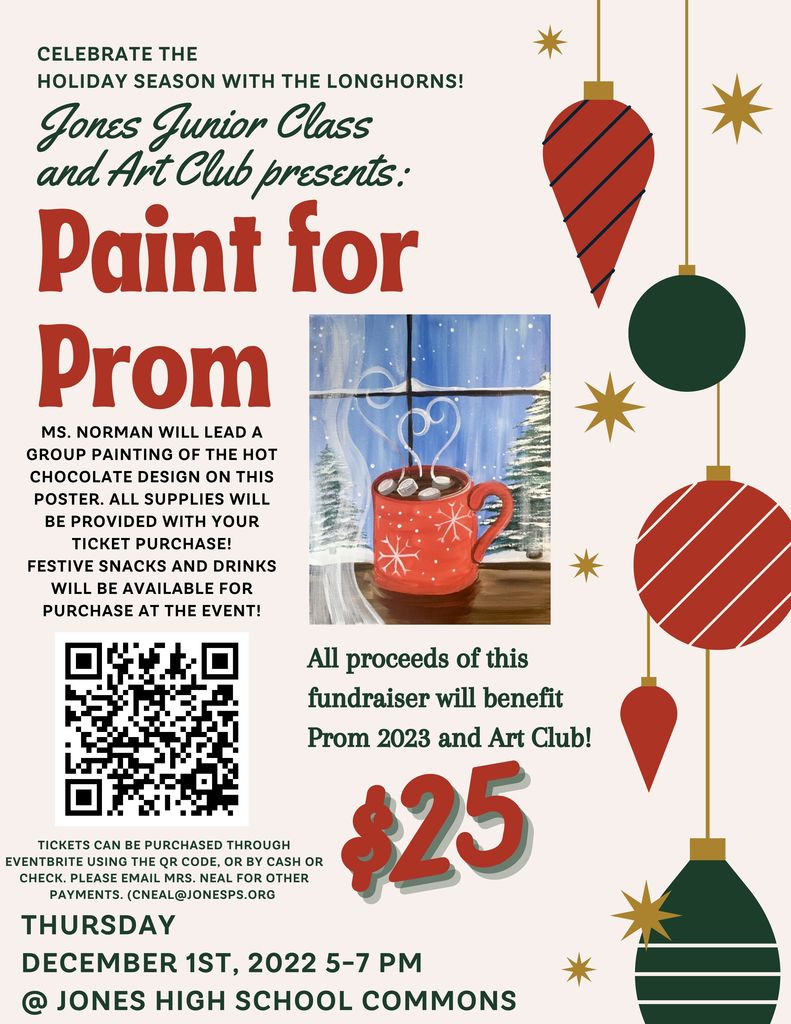 JHS Students: This is the last week to purchase tickets! Don't miss out on this event.