Congratulations to JHS Senior, Abigail Kremer! Abigail has been awarded the Sower Award from the University of Oklahoma. She will be receiving 12000.00 towards her college expenses over her four years! Way to go Abigail!! #ITSAGREATDAYTOBEALONGHORN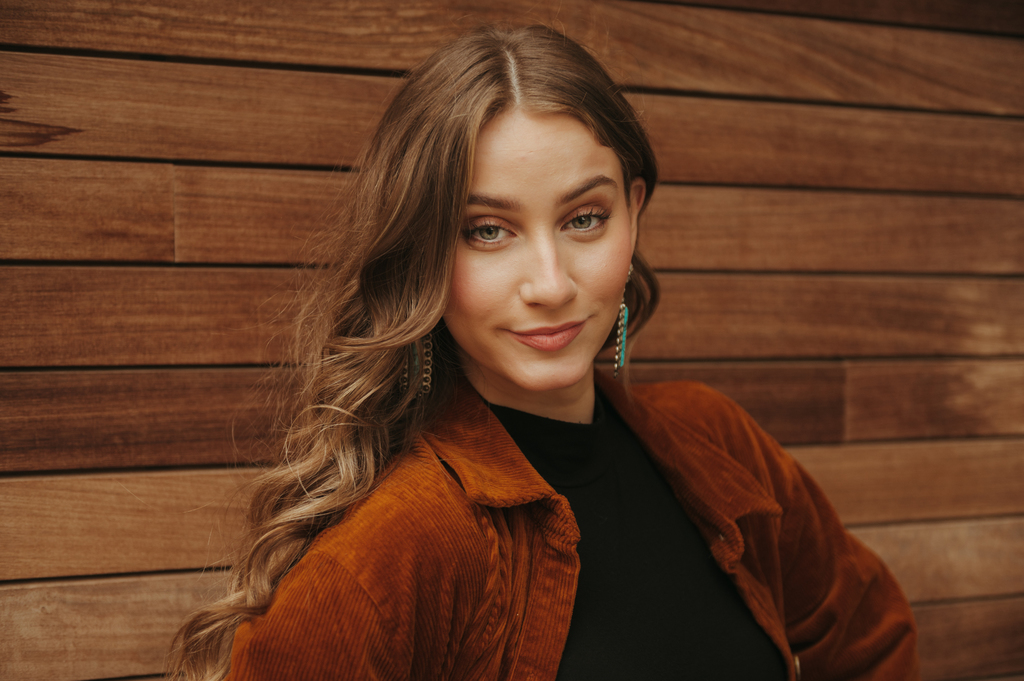 JHS Students and Parents: Mark your calendars! Douglass High School is hosting a HBCU(Historically Black Colleges and Universities) College Fair on March 12. This college fair is open to anyone.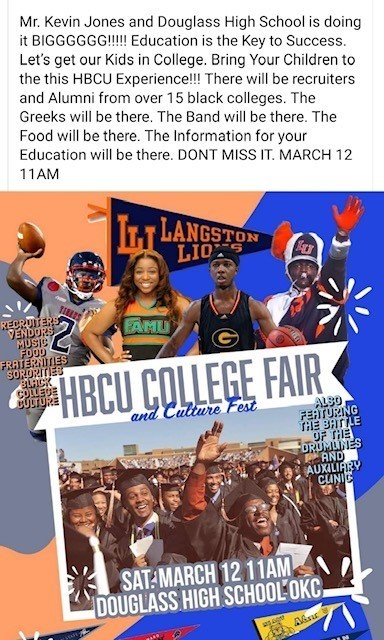 JHS Juniors: Below is a scholarship that JHS juniors are eligible for through the Oklahoma City Community Foundation: Applications must be submitted by March 1, 2022. This is an excellent opportunity for junior students who will be the first in their family to attend college. Detailed information about the scholarship is below along with the link to this specific application page. Students may also receive detailed instructions about our online application process by going to the scholarship page on our website at
www.occf.org/scholarships
. Please know that applicants must complete a General Application before applying to specific scholarship opportunities. Think of the General Application as setting up a Student Profile. Submitting a General Application does not mean that an applicant has applied for any scholarships. New Opportunities Scholars Eligibility: A junior attending a high school participating in the Central Oklahoma Guidance Counselor Network. Be the first in their family to attend college. For the purpose of this scholarship program, the definition of "first in the family" is that applicant or applicant's parents, stepparents or grandparents have not attended college. Unweighted GPA no greater than 3.79. The Process: If you are recommended by the Scholarship Selection Committee of your high school, you and your parent/guardian agree that you will complete a series of college preparatory activities including: Work during the summer/fall OR complete community service hours with an approved community based organization between your junior and senior year. Participating in a college campus visit accompanied by your parent. Financial Aid and an ACT workshop. Various assigned activities. By January 15th of your senior year, your high school guidance counselor must provide certification of these activities to the Oklahoma City Community Foundation. If all of the required activities have been completed, you will receive the documents necessary to claim a one-year scholarship of $3,000. Funds may be used for tuition, fees and books at any academically accredited two-year, four-year or vocational/technical nonprofit institution in the United States. Payments are made directly to the school. Award: $3,000 Deadline: 03/1/2022 After completing the General Application/Student Profile, applicants must submit the Supplemental Questions (below) to complete the application for the New Opportunities Scholarship: 1. I agree and understand that I must complete specific college preparatory activities, including the completion of the New Opportunities Scholars workbook, before January 15, 2023 to satisfy all of the requirements to receive this scholarship. 2. On the General Application/Student Profile, please make sure the person you requested to write a letter of recommendation on your behalf is a High School Teacher. 3. Did you submit a picture of yourself when you completed the General Application? (NOTE: If you answered "no", please know that a picture is required for this scholarship, and to be eligible for this scholarship you need to return to the General Application/Student Profile section and attach an appropriate picture/head shot.) For more information and to apply go to
www.occf.org/scholarships

Leaders don't create more followers, they create more leaders. ― Tom Peters

JHS Freshman, Sophomores, and Juniors: I have been in all freshman, sophomore and junior English classes and went over your icap requirements. Again this is supposed to be a beneficial process for you. With that being said I have made connection with Junior Achievement Oklahoma and am getting all students access to their virtual career fair. I a m working on getting all of you a login to the career fair. Before I can release the login information to you, you will need to complete the student guide workbook or components of your icap in okcollegestart.org Below is information on the junior achievement inspire website and link and instructions for their student guide. The staff at Junior Achievement of Oklahoma is excited that JA Inspire will be starting soon. We hope that your students are looking forward to the experience that they will have with JA Inspire Career Exploration Fair. The JA Inspire Oklahoma website. This website is designed to be a one stop site for everything that educators and students will need to prepare for JA Inspire.
https://jainspireok.org/
This website includes the following: Exhibitor List: The list will be updated weekly to include the exhibitors that will be part of this event. When a company logo is selected it should direct the user to the website. This function will assist the students in researching companies that they are interested in. Student Section: The Student section can be found next to the Educator section. 1. Student Guide: The student guide includes everything that the students will need to complete the curriculum and prepare for the Career Exploration Fair. The guide is organized by session and each session includes all the videos and worksheets that they will need. The password to download this guide is Inspire2022! There is a middle school guide and a high school guide. Please make sure that the students download the correct one. 2. JA Inspire Videos: This section includes the videos for the students to view as part of the curriculum. As stated above the videos that they need are included in the student guide. The student curriculum has changed since the first year and they do not use all the videos at this time. Each video contains great information, so we have left them on the website for anyone to view.JA My Way: This resource is not part of the JA Inspire curriculum however it is a great resource for students who would like to view additional information. There are some sections under JA My Way where the students will need to set up a free account to access the content.

Congratulations to JHS Senior Micah Edmonds! Micah has been awarded the following scholarships: Oklahoma City University has offered her a $13,000 academic scholarship Oklahoma Christian University has offered her a $12,000 academic scholarship Oklahoma Baptist University has offered her a $14,000 academic scholarship Southwestern College has offered her a $11,000 academic and $10,000 softball scholarship Oklahoma Wesleyan University has offered her a $10,000 softball scholarship Evangel university is awarding her $19,500 and that's with the highest merit scholarship at the school and softball on top of that. Congratulations Micah! #ITSAGREATDAYTOBEALONGHORN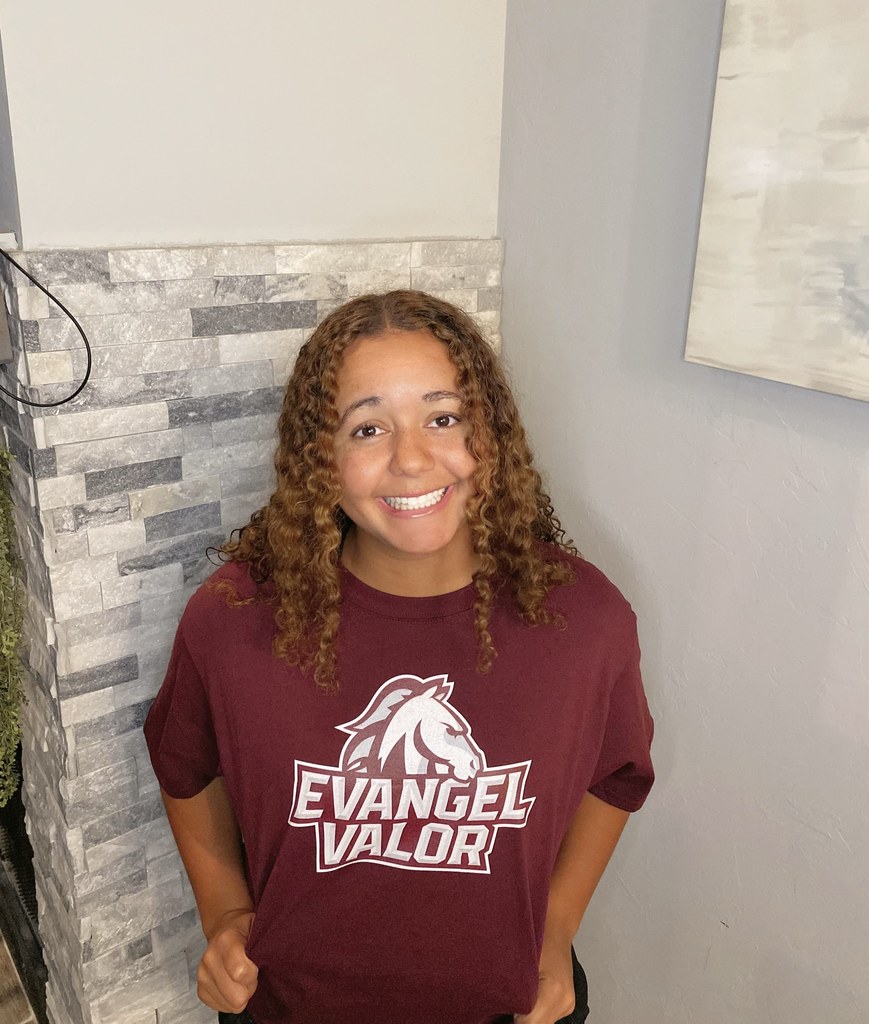 JHS Junior Girls interested in Girls State: AMERICAN LEGION AUXILIARY GIRLS STATE American Legion Auxiliary Unit 170 in Midwest City is providing information and the application form for the Girls State Program to be held at the University of Oklahoma May 29 - June 3, 2022. This program is for junior high school girls only. The cost for the program is $275.00 per delegate, but our unit is willing to pay the fee for five delegates selected. If a delegate is not selected by our Unit it may be possible for that student to pay her own way providing there is availability. Delegates must complete the attached application and return by email to me by March 15, 2022. Delegates will be selected from each school by the unit. Once the delegates have been selected, they will be notified by email and will then register online to attend the program. American Legion Auxiliary Oklahoma Girls State is a premier program for young ladies across the state of Oklahoma. During this week long summer camp, delegates create and operate city, county and state governments, while developing leadership skills and an appreciation of their rights as a citizen. The American Legion Auxiliary (ALA) Oklahoma Girls State is an educational program focused on government, leadership and patriotism. Delegates must be junior girls in High School this year. Delegates should have high moral character, leadership qualities, an ability to work with others, and an interest in government. Delegates must salute the flag of the United States and show it proper respect. ALA Oklahoma Girls State was first held in 1940 and has been conducted annually by the American Legion Auxiliary, except for two years during World War II and in 2020 when we were forced to cancel due to the COVID-19 pandemic. ALA Oklahoma Girls State was the first in the nation to have its educational program accredited. Since its inception, more than 30,000 girls have received this valuable citizenship training in Oklahoma. AMERICAN LEGION AUXILIARY SCHOLARSHIP INFORMATION Each year the American Legion Auxiliary National Organization awards the following scholarships for members and the Children of Warriors. Criteria and applications are found on the American Legion Auxiliary National Website at
https://www.alaforveterans.org/scholarships
. All scholarship applications must be turned into American Legion Auxiliary Units by March 1, 2022. Scholarship may be accepted prior to March 1, 2022 but will not be accepted after that date. Units will select only one scholarship application for each scholarship applied for by students. See Mr. Moses for application

Rose State College will be hosting our annual Black Male Summit on Thursday, February 24th from 8:30-2:00. The purpose of this event is to help black males navigate life and excel in education. There will be discussion of education and scholarships, athletics, technology, and life in general. Breakfast and lunch will be provided. . To register for the event, please call or email Dr. Monique Bruner at 405-733-7524 or
mbruner@rose.edu

JHS Seniors that are Valedictorian or Salutatorian: Please let Mr. Moses know if you are planning to attend Cameron University in Lawton, so he can have Mr. Watkins nominate you for Cameron's Val/Sal Scholarship. Please let Mr. Moses know as soon as possible. Deadline for nomination is coming up soon.

Life's most persistent and urgent question is, 'What are you doing for others?' Martin Luther King, Jr.

Langston University has one of the most obtainable full-ride scholarships in the nation in the McCabe Scholarship. Students with a 3.5 unweighted, cumulative GPA and a 22 ACT or 1100 SAT (or valedictorians who may not have tested well) may apply for a four-year full-ride here:
https://forms.gle/eUnRqgfg8c4f83ZQ6
We also have a room and board scholarship that is test optional and starts at a 3.3 unweighted GPA. This is one the same application. More information on the Honors Program is here:
https://www.langston.edu/academics/programs-centers/edwin-p-mccabe-honors-program
We have another full-ride is through the USDA and requires a 3.0 gpa and a 21 ACT or SAT equivalent that is aimed at Ag students (and loosely connected majors like Computer Science, Biology, etc.). This USDA 1890 Scholarship is due January 31st of each year and typically comes with a government internship. The link is here:
https://www.usda.gov/partnerships/1890NationalScholars

Congratulations to JHS Senior, Grace Rhodes. Grace has been awarded the following scholarships: Olivet Nazarene University academic scholarship for $70,000 distributed as $17,500 over four years plus a $2,000 grant which can be renewed each year. Oklahoma City University academic scholarship which consisted of an offer of $52,000 distributed as $13,000 annually for four years . And finally she received an $8,000 academic scholarship from the University of Oklahoma. Way to go Grace! #ITSAGREATDAYTOBEALONGHORN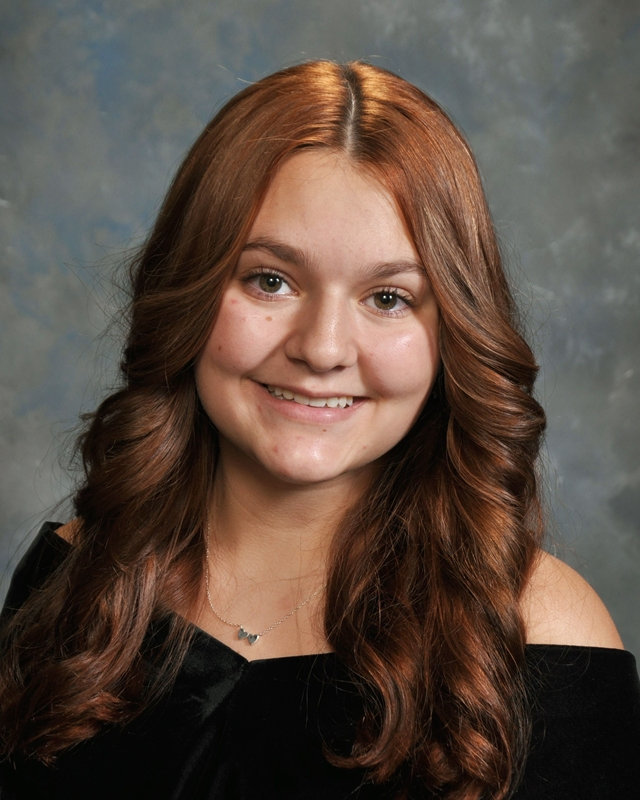 Good luck to our JHS Cheerleaders at NCA High School Nationals in Dallas this weekend!!!!!!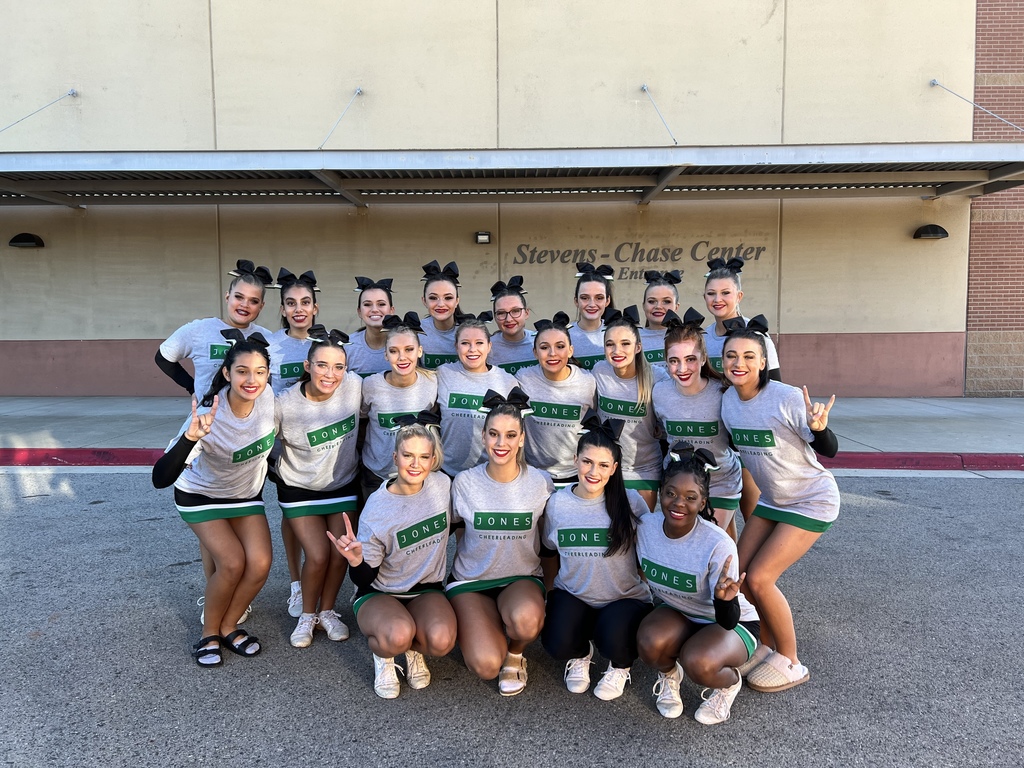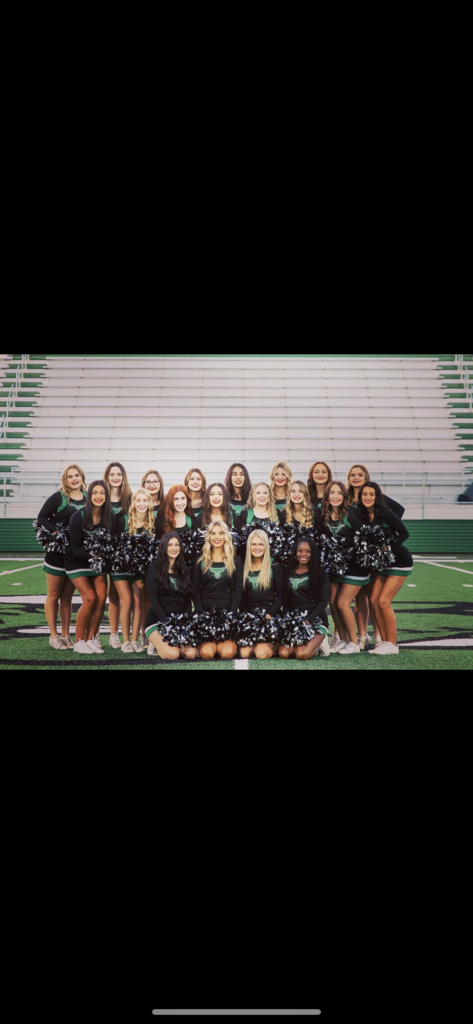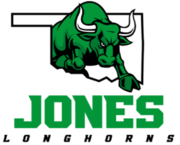 The Oklahoma State Regents for Higher Education assists in the administration of the Frances Koop Parsons/AT&T Pioneers Memorial Scholarship. This scholarship program was established through the AT&T Pioneers to assist Oklahoma students in obtaining their educational goals. The recipients of this scholarship will receive a $1,000 cash award to be used at an eligible Oklahoma career technology center, two-year college, or four-year university. This scholarship is open to first-time freshmen with at least a 3.0 high school GPA whose family income does not exceed $75,000. The 2022-23 application is attached and must be postmarked on or before March 25, 2022.
https://core-docs.s3.amazonaws.com/documents/asset/uploaded_file/1804509/2022_Frances_Koop_Parsons_application.pdf

Courage to Grow Scholarship The "Courage To Grow Scholarship" was created to help students realize their college dreams. We don't want the college dreams and plans of so many to get lost in the financial shuffle. It takes a lot of determination and courage to forge ahead when sometimes it would be easier to give up. With the "Courage To Grow Scholarship," we strive to help students achieve their higher education goals. By taking away some of the concerns such as "how will I pay for college," students can concentrate on their education and focus on the task at hand. Today's economy is hard enough on a family; it is our desire to ease some of the financial burdens that a college education can put on individuals and their families. Award Amount: $500 Deadline: February 28, 2022
https://couragetogrowscholarship.com/?nowprocket=1

Vegetarian Resource Group Scholarship The Vegetarian Resource Group each year will award $20,000 in college scholarship money to graduating U.S. high school students who have promoted vegetarianism in their schools and/or communities. Vegetarians do not eat meat, fish, or fowl. Vegans are vegetarians who do not use other animal products such as dairy or eggs. Applicants will be judged on having shown compassion, courage, and a strong commitment to promoting a peaceful world through a vegetarian diet/lifestyle. Award Amount: 3 awards; Varies Deadline: February 20, 2022
https://www.vrg.org/student/scholar.htm

World of 7 Billion Student Video Contest Population growth is a threat multiplier – it makes other problems worse and more difficult to combat. Through the World of 7 Billion student video contest, middle and high schoolers are given the platform to think critically about global challenges related to population and share what they think we should do to fix it. Explain how population growth impacts one of the following global challenges and offer an idea for a sustainable solution. The global challenges are: agriculture and food, urbanization, or ocean health. Award Amount: Multiple awards; Varies Deadline: February 22, 2022
https://www.worldof7billion.org/student-video-contest/

American Hotel & Lodging Educational Foundation Scholarships Helping to educate the next generation of hospitality professionals is the essential work of the AHLA Foundation. Students are empowered. Careers are launched. The workforce is assured. The Foundation's mission is to help people build careers, improve their lives, and strengthen the lodging industry. We achieve this by giving them necessary tools, resources, and education, so they can launch long-term careers in our great industry. Award Amount: 9 awards; Varies Deadline: February 15, 2022
https://www.ahlafoundation.org/scholarships