Make up game vs. Mcloud will be varsity only this Saturday. Girls will start at 6:00 pm.



Rose State College Junior Preview Day is fast approaching. Please encourage your interested Juniors to register with the attached link. Space is limited and will fill up fast. During this event your students will learn all about the great things Rose State has to offer, planning for their Senior year, and advice from current Rose State students. Not to mention a free t-shirt and lunch!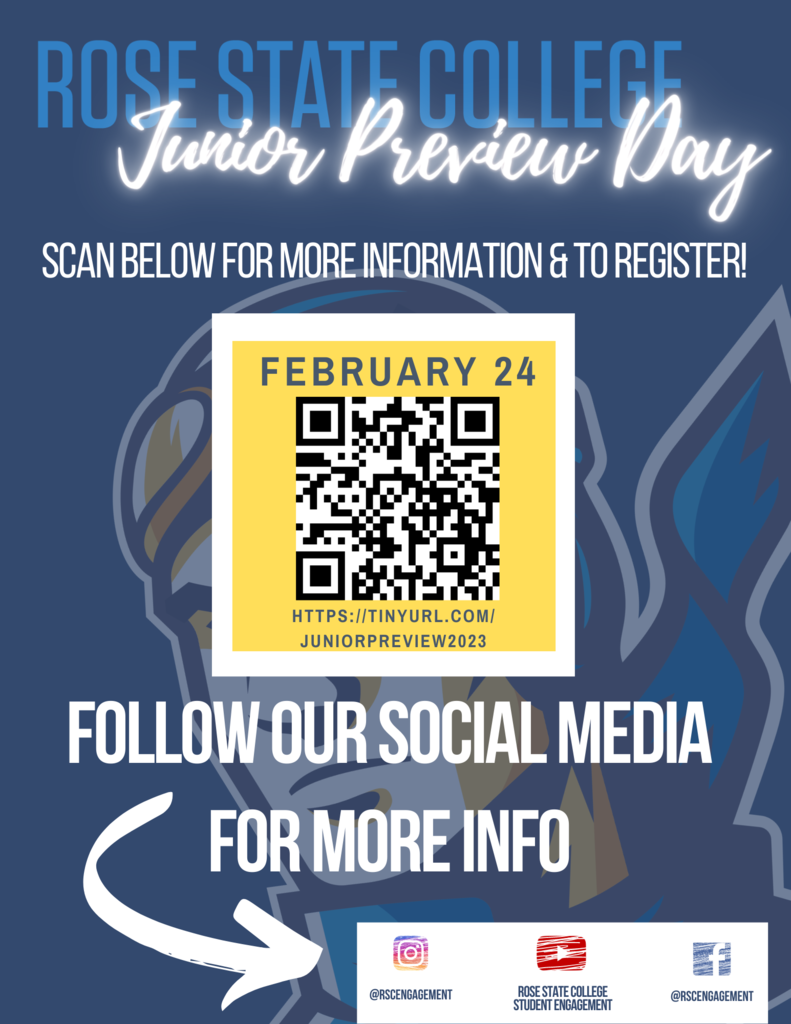 JHS JUNIORS AND SENIORS We're excited to invite your students to attend The Leadership Experience (TLX) 2023 hosted by the President's Leadership Council at Oklahoma State University! The spring TLX is on March 4-5. It is a two-day high school leadership conference intended to empower and equip young student leaders to create positive change! This spring's TLX focuses on building a culture of inclusive and open-minded leadership. We're inviting all juniors and seniors! The registration fee is $130, which covers your lodging, meals, conference materials and t-shirt. To confirm your registration, please submit the non-refundable registration fee, t-shirt size request and liability and medical release forms. You'll stay at a local hotel and transportation to and from the OSU campus will be provided.
https://orange.okstate.edu/register/?id=d7e92dba-2a54-4982-987f-d4ca079c4d2a

Reminder - The 2023 HSF Scholar Program Application is now open and closes on February 15, 2023, 5:00 PM PT. We encourage you to share this opportunity with students in your network. Every year, HSF selects 10,000 outstanding students as HSF Scholars from a broad and talented pool of applicants HSF Scholars are a part of an unrivaled group of 25,000+ Scholars from 50 states, and more than 1,200 institutions, who make up the current HSF Scholar network HSF Scholars have access to a network of over 65,000 HSF Alumni. HSF Alumni are leaders in their professions, communities, and the nation; many now serve as HSF mentors, career coaches, and volunteers HSF Scholars have access to a full range of Scholar Support Services, including career services, mentorship, leadership development, knowledge building, and wellness training Career services include access to internships and job opportunities with HSF corporate partners HSF Scholars are eligible to apply for all Scholar Conferences including, the STEM Summit, Finance Conference, Media & Entertainment Summit, Entrepreneurship Summit, Healthcare Summit, and Alumni Symposium Exclusive access to the HSF Insider which shares invaluable information and select career opportunities with HSF corporate partners Finally, and importantly, HSF awards more than $30 million in scholarships annually and, depending upon available funds, HSF Scholars may also be eligible to receive a scholarship, which ranges from $500-$5,000 and awarded directly to students Deadline: February 15, 2023, 5:00 PM PT Eligibility: Must be of Hispanic heritage U.S. citizen, permanent legal resident, or DACA Minimum of 3.0 GPA on a 4.0 scale (or equivalent) for high school students; minimum of 2.5 GPA on a 4.0 scale (or equivalent) for college and graduate students Plan to enroll full-time in an accredited, public or not-for-profit, four-year university, or graduate school, in the U.S., for the 2023-2024 academic year Submit the FAFSA or state-based financial aid forms (if applicable) About HSF: HSF empowers families with the knowledge and resources to successfully complete a higher education, while providing scholarships and support services to as many exceptional students as possible. Founded in 1975, HSF has awarded over $708 million in scholarships. HSF Scholars have access to valuable Scholar Support Services and, as funding permits, scholarships ranging from $500 to $5,000. Additional Important information: It takes an average of 30 minutes for students to complete Phase I of the 2023 HSF Scholar Program Application No essays, recommendations, or document uploads are required in Phase I To get started, visit HSF.net and log into or create your myHSF profile to access the HSF Scholar Program Application HSF Scholar Application Timeline: January – Phase I of the HSF Scholar Program application opened January 1 and closes February 15, 2023, 5:00 PM PT Late February– Applicants are evaluated and the most competitive are selected as Finalists March – Finalists are also announced and asked to submit essays, recommendations, transcripts, FAFSA, and other related documents June – HSF Scholars are announced (including students waitlisted for the HSF Scholar designation) June to December – Final Document Verification (financial aid award letter, enrollment verification, and related documents) December – 10,000 HSF Scholars are confirmed after the verification process is complete
https://www.hsf.net/sign-up/

OkMEA All-State Choir = A best-of-the-best choir consisting of students from across the state of Oklahoma. The auditions begin in October where 1,823 music students vied to pass 1st round to advance. The students compete, as a one-person team, based on talent only, and are up against schools size A-6A. The music is college level, 8 part pieces that consist of different genres and in different languages. Kayleigh Patterson not only passed 1st round auditions at ECU, but continued to pass 2nd round auditions at UCO and in turn gained a prestigious spot as a member of the 2023 OkMEA All-State Mixed Choir, the highest level choir achievable in Choral Music in the state of Oklahoma. Only 208 students survived both auditions to earn membership. Kayleigh represented Jones High School at the OkMEA State Music Convention in Tulsa over a grueling four day event, Jan. 18-21, 2023. She is now using her competitive skills to audition for a college scholarship to USAO where she has set her sights on receiving a Music Education degree and becoming the 3rd JHS student to enter the teaching ranks, as a music teacher, and to help other students hone their love for music (joining Allison Johnson (Oliver) and Joel Lane.) Please acknowledge and appreciate all of the hard work and sacrifice that Kayleigh and her parents (Trish Patterson and dad) put forth to achieve this honor on her own talent and merit. CONGRATULATIONS KAYLEIGH! Best of luck to you as you move forward and as always, keep making beautiful music! #greatdaytobealonghorn

Jones Public Schools will be remote learning for Wednesday, January 25 due to inclement weather. Stay warm!

Upcoming JHS Track & Field schedule: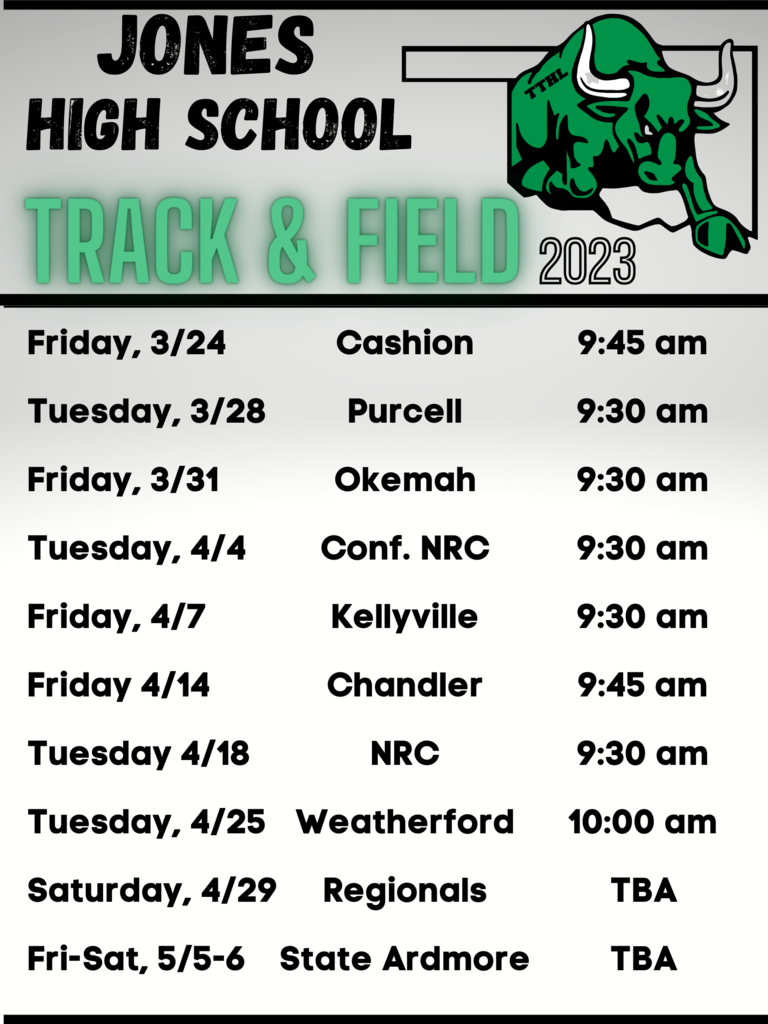 Tonight's basketball game at Mcloud has been cancelled and will be rescheduled at a later date.

Junior Males: A representative of the American Legion Boys State and a representative from the Choctaw American Legion Unit that pays for Jones Student to attend Boys State will be at Jones High School at 12:45 on Friday in the commons giving presentation on Boys State and how to apply to be a delegate. All Junior Boys interested need to attend this presentation. See Mr. Moses if you have any questions. We also have staff members that participated in Boys State that I can connect you with.

We are, of course, watching the weather event predicted for tomorrow. We expect to see some snow, but we're hoping, with no ice predicted, it will not be significant enough to impact driving conditions. We've already started our procedures to keep sidewalks as clear and safe as possible. Unfortunately, we are on the boundary of this event , so we will have to continue to wait. There is the possibility that we can implement a remote learning day; however, the admin team will need to discuss this further before we make that decision. To be clear: we are currently anticipating regular instruction in class for tomorrow, but stay tuned.

Seniors!!! Due to the possibility for inclement weather, the senior ad deadline is extended to Friday, January 27th. You must let me know & start payments by the 27th if you want an ad. Otherwise, we will be cutting extra pages from the yearbook. Ad prices: full page $180; half-page $90; 1/4 page $70; 1/8 page $50. The yearbook staff can design the ad for you for an additional $20. Email
cmilligan@jonesps.org
for more information.

Girl's Varsity Basketball will play at 4:00 tomorrow at Mcloud, instead of 6:30. Please keep an eye out for further schedule changes should there be inclement weather. Thank you!

Seniors interested in Petroleum Engineering: See this information that was sent to me about scholarship opportunity HELP US FIND THE NEXT GENERATION OF ENERGY LEADERS! The Society of Petroleum Engineers (SPE) has asked us to share NEW scholarship opportunities available for your High School Seniors. SPE currently has two applications open: General Scholarship open to students interested in Petroleum Engineering, Geology, or disciplines relative to the Oil and Gas Industry. Dependent Scholarship open to students with a parent who is currently a professional SPE member or a member in transition in the OKC SPE Section. SPE OKC – 2023 Scholarship: Deadline: March 31, 2023 Apply to:
https://lnkd.in/gsZu3W9D
And, of course, there is still time for your high school seniors to apply to become an OERB Petroleum Scholar. Students majoring in petroleum-related fields including Petroleum Engineering, Geosciences, or Energy Management at the University of Oklahoma (OU), the University of Tulsa (TU), Oklahoma State University (OSU) and Oklahoma City University (OCU) are eligible to apply. OERB – 2023 Scholarship: Deadline: March 1, 2023 Apply to:
https://oerb.com/education/undergraduate-scholarship-and-application/
For more information, visit OERB.com/scholarships! The 2023-2024 application is open until March 1st, 2023 and takes less than 30 minutes to complete. Last year nearly 50% of students that applied were awarded scholarships! OERB's scholarships are sponsored by the 2,500+ producers and thousands of royalty owners in Oklahoma. The industry directly employs 140,000 Oklahomans and has an average salary of $104,000. The next generation of oil and natural gas professionals will continue to help produce the resources that fuel our modern world while finding new ways to reduce the environmental footprint.

JHS SENIORS: The Oklahoma State Regents for Higher Education assists in the administration of the Frances Koop Parsons/AT&T Pioneers Memorial Scholarship. This scholarship program was established through the AT&T Pioneers to assist Oklahoma students in obtaining their educational goals. The recipients of this scholarship will receive a $1,000 cash award to be used at an eligible Oklahoma career technology center, two-year college, or four-year university. This scholarship is open to first-time freshmen with at least a 3.0 high school GPA and whose family income does not exceed $75,000. The 2023-24 application is attached and must be postmarked on or before March 24, 2023. Applications without high school transcripts or income documentation will not be considered.
https://core-docs.s3.amazonaws.com/documents/asset/uploaded_file/241/Jones_High_School/2711885/2023_Frances_Koop_Parsons_application.pdf

Seniors!!! Your senior ads are due in 6 days on JANUARY 25TH!!! You must let me know & start payments by the 25th if you want an ad otherwise we will be cutting extra pages from the yearbook. Ad prices: full page $180; half-page $90; 1/4 page $70; 1/8 page $50. The yearbook staff can design the ad for you for an additional $20. Email
cmilligan@jonesps.org
for more information.

The Jones High School basketball tournament has begun! Boys will play against Woodward at 4:40 and girls will play against OCA at 6:00 this evening. #TTHL