We are, of course, watching the weather event predicted for tomorrow. We expect to see some snow, but we're hoping, with no ice predicted, it will not be significant enough to impact driving conditions. We've already started our procedures to keep sidewalks as clear and safe as possible. Unfortunately, we are on the boundary of this event , so we will have to continue to wait. There is the possibility that we can implement a remote learning day; however, the admin team will need to discuss this further before we make that decision. To be clear: we are currently anticipating regular instruction in class for tomorrow, but stay tuned.

SCHOOL IS ONLY ONE MONTH AWAY!!! CLINK the LINK below to check out all the new features of the UPDATED Jones App! Download it NOW to get District & School communications throughout the school year!
https://youtu.be/Ez5_qybZJ2o

The Jones Board of Education meeting scheduled for Monday, June 13 has been rescheduled for Tuesday, June 14 at 5:30.

🚨Schedule Change🚨 Due to rain in the forecast, we will be moving camp. Summer Baseball Camp is being moved to next Tuesday-Thursday. 🗓June 14-16 🕰9:00-12:00

🏀JHS BOYS BASKETBALL🏀is hosting a HOOPS CAMP for future 2nd-6th graders in JUNE! 💚🤘💚 Signup by google form or in-person at event.

🤘JHS CROSS COUNTRY🤘 is hosting a 👟RUNNER'S CAMP👟for any upcoming 5th - 12th grade student! Scan the QR code to sign up online.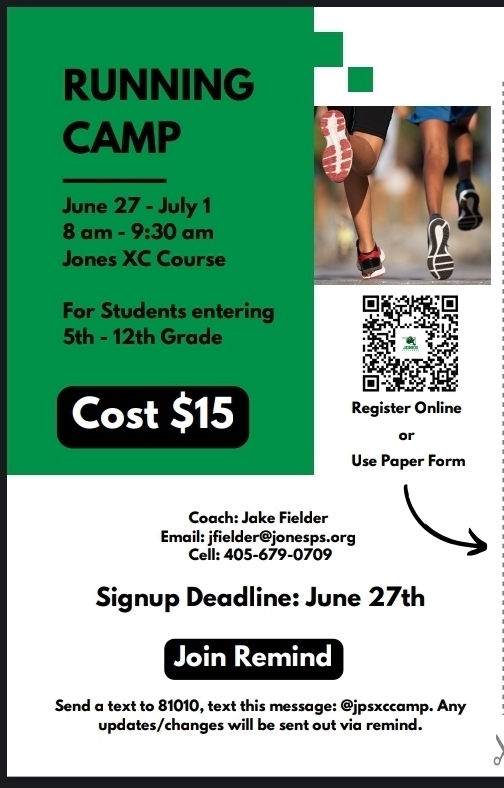 Currently, Jones Middle school is without power,  but the other 2 sites are up. The Middle School will have remote learning tomorrow, and the Elementary and High School will be onsite.

Jones Public Schools will be closed Friday, October 30 due to power outages at the schools and wide spread community outages.

Jones Public Schools will be closed Thursday, October 29 due to power outages.

Jones Public Schools will be closed Wednesday, October 28 due to power outages. Stay warm and safe Longhorns!

MS and JV football games at Bethany tonight have been canceled due to severe weather. Thank you!

Face Mask are required at all JPS campus's during school and at sporting events. Etc. Thank you for your understanding!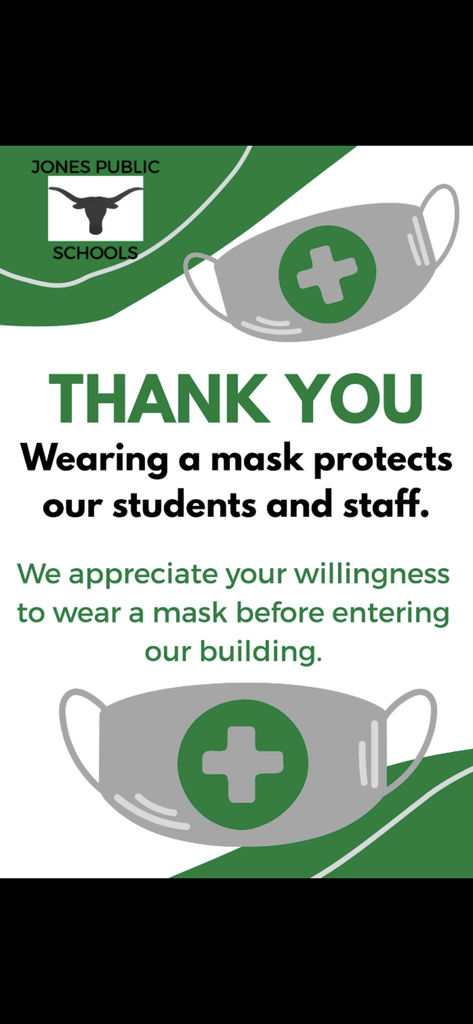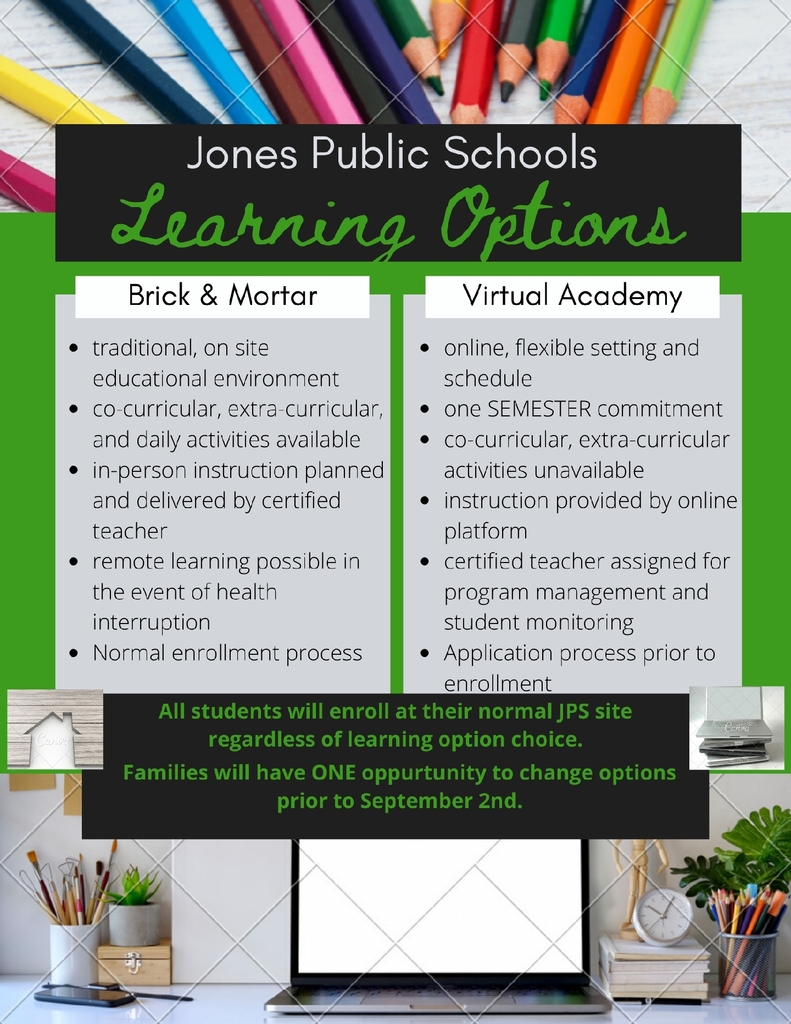 JPS Food Service Company is now hiring! Open interviews will be conducted at the High School Commons on Monday, July 13th from 10am-1pm

JPS food service will be on pause next Wednesday-Friday, July 1st-July 3rd.

Earlier today, the OSSAA board voted to conduct summertime activities in accordance with current Rules and Policies as listed in the Administrator's Handbook. While many may feel this permits a return to immediate, full participation, Jones Public Schools will take a more measured approach. Over the last several days, Jones Public Schools has been in the process of developing a plan for the safe reintegration of our student-athletes and coaches into summertime activities. We will continue to develop that plan and provide it to our community in the coming days. This plan will ensure compliance with all federal, state, and local health and safety guidelines.

The State Department of Education is expected to order all schools in Oklahoma to close until April 6. We appreciate our state leaders being proactive during this health crisis. Our administrative team has been working on plans to support our students and their families as much as we can. We have requested permission from the state to provide meals to all families that need that service. We have to consider the possibility that there will be subsequent, longer closures, so we are also working on plans to provide some modified instruction online. Students who do not have the opportunity to participate in online activities will not be penalized; however, we are working diligently to make sure EVERY student will have that opportunity. We hope to be able to provide details on these plans in the next few days.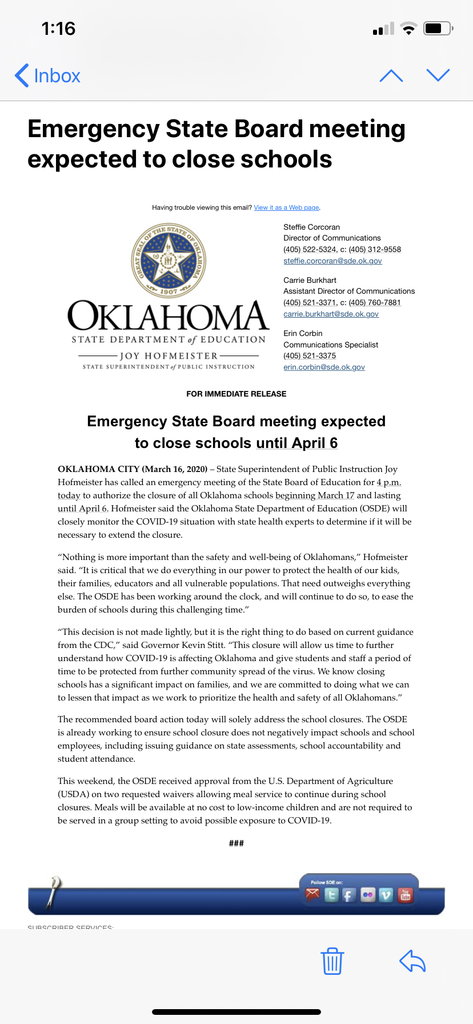 Girls State Basketball Tournament has been postponed until further notice.