Below are different search tools that can help you find reliable sources for your research.
JMS Library Catalog
Check out the JHS library collection. It could contain sources that could be used in your research process. Searching the catalog is the best way to see if we have specific titles & resources on certain topics. You can search by topic, title, author, or subject. If you do locate an item that you could use, stop by the library to check it out at the circulation desk.
Research Databases
The Oklahoma Department of Libraries provides free access to several research databases including the widely used EBSCOhost database on their Digital Prairie Website. Digital Prairie was made possible in part by the Oklahoma Department of Libraries with funding from the federal Institute of Museum and Library Services.
These free databases allow you to access scholarly articles, videos, & primary sources documents, and the quality is much more reliable than what you can find in a straight Google search. You will use these databases during your high school career & throughout college, so familiarize yourself with this amazing tool!
The image below shows you the Digital Prairie Research & Discovery Webpage. Those databases that will help you are circled in red. The yellow arrow points to the link that will take you to the EBSCOhost database aimed at students K-12. Scroll down for a list of links to short video tutorials on how to use the EBSCOhost databases.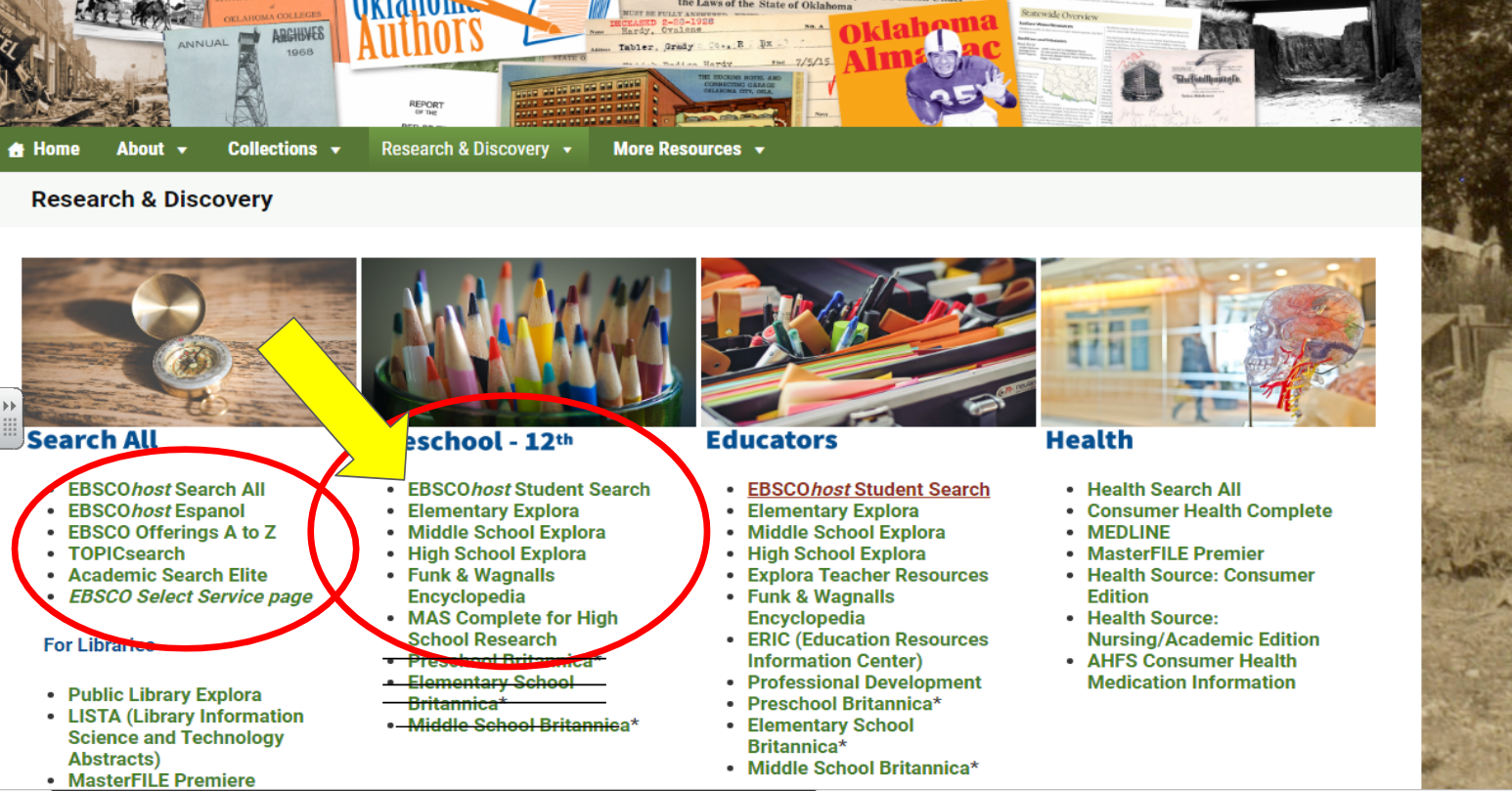 EBSCOhost Video Tutorials provided by EBSCOhost
If you prefer to read about using EBSCOhost, you can do so on this webpage.
Primary Source Documents
When conducting research you will want to distinguish between primary source documents and secondary source documents.
Watch this short video by Imagine Easy Solutions that discusses 5 awesome primary source websites. Those websites are listed below as well.
Keyword Search Term Tips
Watch the short video below from the Lloyd Sealy Library for keyword search term tips.
Evaluating Sources
There is a difference between scholarly and popular periodicals. It sometimes can be tricky to differentiate between the two. This short video can help with that task. Always check with your teacher to see what type of source they require for your assignment.
We recommend using scholarly databases for research purposes, but internet searches can sometimes provide useful information. It's important to analyze information found through basic internet searches to determine it's reliability as a source.
Use the CRAAP method:
Is it CURRENT? When was it published? Are the references current? Is currency important for your topic?

Is it RELEVANT? Does the information relate to my topic? What audience is it written for?

Is it AUTHORITATIVE? Whos is the author/organization? Are they qualified? Is it peer-reviewed? What does the website URL tell you - .edu or .gov or .org VS .com or .net?

Is it ACCURATE? Where does the information come from? Are there any references? Are there errors?

What is its PURPOSE? Advertising? Scholarly? Educational? Opinion? Is there bias?
Watch Teacher Totter's short Youtube video on the CRAAP method.
General Search Tips
Boolean Operators - Using AND, OR, NOT, & AND NOT for more productive search results.
What the heck are Boolean Operators?
Visit Rockwell Schrock's Boolean Operator Machine to see how these conjunctions can affect search results.

Watch the following videos from the University of Toronto to better understand Boolean Operators