Skipping a class or full day of school can really add up over time. Find out how your missed days effect your chances of graduating on time!
Oklahoma's Promise is a tuition waiver to attend an Oklahoma college or university. To apply, a student must:
Be a resident of Oklahoma

Apply during 8th, 9th, 10th or 11th grade

Student's parents' federal adjusted gross income does not exceed: $60,000 with 1 or 2 dependent children OR $70,000 with 3 or 4 dependent children OR $80,000 with 5 or more dependent children
Visit www.okpromise.org for more information.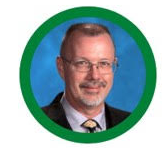 Curtis Moses
Counselor & Dean of Students
cmoses@jonesps.org/405-399-6863
Michelle Rust
Registrar
mrust@jonesps.org/405-399-6864
Welcome to the Counselor's Corner! I am excited to be the counselor for Jones High School students in grades 9-12. I want to ensure that all our students are college/career ready when they graduate. I also want to help all students access the right path to achieve their future success. Together with our registrar, Mrs. Rust, I am here to help!
College Prep Checklists: